Thanks to the generosity of the owner, and Bitcoin enthusiast, Mr Lex Heij of the famous coffee and tea company van Wijs & Zonen we have use of part of his premises for the Bitcoin Embassy. Wijs & Zonen, a very renowned business was founded in 1792 and in 1958 appointed as Royal Purveyor by Our Queen/King of The Royal Family and Court of Orange-Nassau.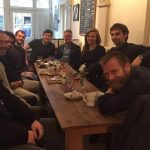 There, right in Central Amsterdam, a short 5-minute walk from the Amsterdam Central Station, the Bitcoin Embassy Amsterdam has its own semi-permanent space in the former tea and coffee retail shop area, street address: "Zeedijk number 43". (in English this means: Sea Wall). Hofje van Wijs ( or 'little van Wijs Court" a clear reference to the van Wijs & Zonen coffee and tea company ) and the Bitcoin Embassy Amsterdam are situated on the outer ( and cleaner ! ) side of the Red Light district of central Amsterdam.
Over the last decades the Zeedijk has become more upmarket with a mix of various medium to higher quality restaurants and nice traditional Dutch brown cafe's where visitors generally go to drink beer and not coffee etc. The second part of Zeedijk street towards the Nieuwmarkt gradually changes into Amsterdam China Town with various businesses and restaurants run by Chinese and other Orientals.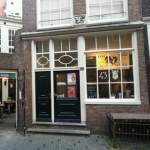 On the street side of the Zeedijk at number 43 the Bitcoin Embassy Amsterdam has its own front door. To the right of the open wrought iron gate that serves as the entrance to the greater 'Hofje van Wijs'. The Embassy space can also be reached from inside the Hofje van Wijs itself. Just ask one of the waiters there.
The publicly accessible Hofje van Wijs attracts a decent and relaxed crowd coming there to hang out during the day and evening. To sit down, drink quality coffee or specialist teas, enjoy an alcoholic drink or to meet up for lunch, dinner or just to eat something small.
What are the opening days and hours of the Embassy?
Hofje van Wijs and the Bitcoin Embassy Amsterdam are both closed on Mondays and open on all other days generally from 12.00 a.m – 11.00 p.m. Please note that in the 'low' season period ( December till March ) we open at 4.00 p.m. ! Just visit the Hofje van Wijs website to make sure!
What are the food and drink arrangements?
The Embassy uses the food, catering and beverage services of the larger Hofje van Wijs bar and restaurant business meaning visitors and our members have to pay for the drinks and food ordered and served on the premises etc. The open atmosphere of the Embassy space is enhanced by the smell of freshly ground coffee and the occasional unexpected buyers showing up to replenish their dwindling tea and coffee stocks.
Can I always expect to meet Bitcoiners and Embassy people there ?
No. Being all volunteers with other obligations, Embassy staff can't always be present on the premises, nor sitting and/or working in the Embassy space or in the wider Hofje van Wijs area! Being known as the place of the Bitcoin Embassy you do have a greater chance of meeting other Bitcoin friends from the Netherlands, casual visitors or foreign travelers passing by and spending their Bitcoins there. Hofje van Wijs is one of the many places in Amsterdam accepting Bitcoin payments for drinks and food etc. Obviously you can expect us at announced and organized events in the Calendar, in the My Embassy section and meetup.com group. Of course we can also meetup with you by prior appointment.
Advice for Foreign Business Visitors to the Embassy:
To make your visit to Amsterdam a success please communicate (well) in advance your dates, purpose of visit, events / presentations you are planning to give in Amsterdam or the Netherlands, your personal details, bio and/or company information and website. This information can be added to the Embassy Event Calendar.
We are open to discussing possibilities for co-organizing an event, scheduling you for a presentation or an (in)formal talk. Alternatively, we can just mention your availability in Amsterdam so others can contact you. Or we can arrange an informal meet and greet in the Embassy Space on a certain date and time slot ( e.g. 4.00 p.m – 6.30 p.m. ). Many things are possible depending on your requirements. We can even help you connect to others in Europe and/or The Netherlands.
Please contact us beforehand so we know your visit and have time to make arrangements! Or just call us last minute – so we can meet you at the Embassy in Amsterdam- if that's more convenient for you.
Available Facilities for our Members and Foreign Visitors:
The Embassy space can generally be used by our members as well as foreign visitors:
—– as your physical (work)space to sit down and work during your time in Amsterdam and for meeting others; you can use your laptop to work during the opening times of Hofje van Wijs ( day and or evening) etc. Go to http://www.hofjevanwijs.nl to check the opening times.
—– to organize and give presentations to members of the Embassy and other interested parties etc.
Your events can be added to our Event Agenda and will be publicly announced via social media to a wider audience etc. The Embassy space can pack up to a maximum of 50 persons ( standing ) and about 20 persons sitting down. Please contact the Embassy to discuss your plans and to check availability of the Embassy space. Should you wish to offer ( free ) drinks, small bites and food at your event hosted at the Embassy space you will need to contact the management of Hofje van Wijs directly to make your (own) arrangements.
What is the Embassy Space generally used for and what sort of activities take place?
Our Embassy space in the Hofje van Wijs is used for:
– organized and announced ( in the agenda ) meetings and events of the Embassy.
– organized and announced parties and social events of the Embassy.
– meetings of special interest groups of the Embassy: we sit around the large table and/or use the smaller tables there.
– dinner meetings of the Ethereum Bitcoin Meetup Group, generally on tuesday every other week. More info see our events calender.
– launching parties, special events and presentations of new startups.
– special meetings for the Professional and Corporate Members of the Embassy.