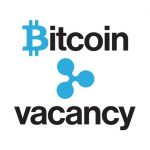 Bitcoin-Vacancy is the place where you can find your next Bitcoin, blockchain or crypto related job and start a career in crypto.
The concept of Bitcoin-Vacancy.com is to make it easy for job-seekers to find jobs and new opportunities in the field of blockchain technologies. See it as a monsterboard for crypto related job postings!
The site is run by Bitcoin Embassy member Hans van Wessel who first discovered bitcoin early in 2013.
For Hans it was immediately clear that Bitcoin and the related blockchain technology are groundbreaking discoveries that will change the way the world works and because of this he started Bitcoin-Vacancy.com in December 2014.
Hans and his staff curate and post most of the vacancies on the job board but one important feature of the site is that it allows for cryptocurrency related companies to add their own vacancies at no charge.
Companies who retweet their bitcoin-vacancy listing tweet get a free priority listing on top of the search results for an entire week. At the Embassy we feel this is an innovative and smart way to boost traffic to the Bitcoin-Vacancy job board.
Bitcoin-Vacancy lists Bitcoin, Blockchain, Ethereum, Ripple and other cryptocurrency related jobs but also jobs that are full or partly paid in Bitcoin or other cryptocurrencies.